Watching highlights from last year's gold medal game sucks for several reasons.  Yes, Canada lost, and watching all the clips of the Russian celebration is painful, but it is just a little bit harder to watch those celebrations knowing that somewhere in those piles of screaming, deliriously happy Russian teenagers is Daniil Sobchenko, who would die in a plane crash about eight months later.
I don't know quite what I was thinking, but I felt compelled to pick up a blaster of Panini Certified when I was in Target yesterday.  At $30, for 3 packs, it might not be the greatest purchase ever.  You are guaranteed autograph or game used card per blaster.  I expected a plain white JP Dumont jersey, but was kind of surprised.  I ended up with a redemption card for a Mikhail Grabovski Mirror Gold autograph /25.
Awesome because he is a Leaf.  Not so awesome because I am unsure if I will ever see this card.
Here's the final tally of the box break I did without actually breaking a box.  I took the money it would have cost me to buy a box of Canada vs. The World, and bought singles with it.  Using an average of online stores + shipping costs, I ended up with around $110 to play with.  I went a little bit over ($120-ish including shipping costs), but  I think I did pretty well.  I am OK with a 10% margin of error.  I bought most of these from a single seller (all except the Angela James patch), so adding in one last card bumped me a bit over.
Protecting Canada's Crease ($2.50) – I had targeted this card from the outset, and I also want the version with James Reimer, if anyone has one available.
International Materials ($5.00 each) -  no particular reason for targeting these guys, other than the fact that I really like game worn material from international jerseys, and these two guys are certainly a bit above average.
Triple Gold ($7.50 each) – I could see myself doing this set, or at least the Canadian subset of it.
World Junior Grads ($5.00) – he's pretty good at hockey, I guess.
Autographs ($5.00 for Staal, $6.00 for Craig, $15.00 for Larionov) – A Jim Craig autograph is just cool, Eric Staal was kind of a throw-in (if pressed, I would exclude him from my "box break" to get the costs down, but with combined shipping, I didn't want to pass it up).  Igor Larionov is a short print in the set, and I am comfortable calling it a steal at $15.
Canadian Cloth Patch ($45.00) – I showed this one off before.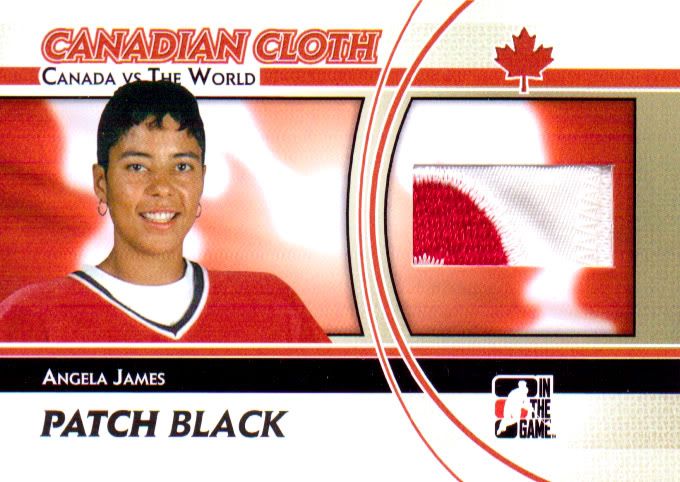 Training Day Number ($19.50) – I have no idea what the going rate is for these, but its a Martin Brodeur patch /10, so I am more than happy with it.
I was going to wait to show these all off together, but I don't have the patience for that.  I received notice that my other lot of cards have been shipped out, but still I couldn't wait.
This card is the "centerpiece" of my box break anyways.  Had I shelled out $100 for a box, and pulled it, I would have been exceedingly happy no matter what the rest of the cards were.  As it is, I got it for less than half the cost of the box (I am also well aware that not everyone would have been as thrilled with an Angela James card, but its my "box break" so I am using my standards.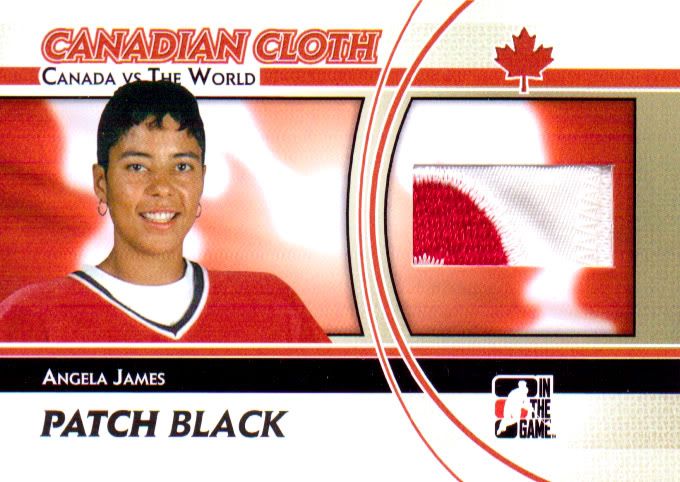 Not hockey, I know.  When I bought my PlayStation, the first game I bought was Mat Hoffman's BMX game.  I loved it.  When I pulled his card in a box of 2011 A&G, I tracked down an address and figured it was worth a shot for the price of a couple stamps.  I got the card back in the mail today, nicely signed and personalized.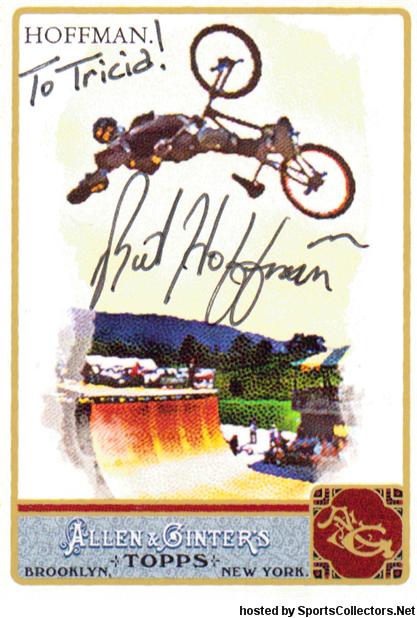 I was seriously considering buying myself a box of this product.
I'm going to try to do the "smart" thing, though.  I have $100 to spend, and I am going to see what I can get for myself out of the product for that money.  I will post some sporadic updates, and then when I spend my full $100 – I'll post a "box break".
I have often wanted to do this, but I have always chickened out, or not followed through.  So, let's see how I do.  I still haven't decided on my strategy – do I go for quantity, or quality?  Feel free to comment on what you think I should do.  All I know right now, is I really want some Eric Lindros Team Canada cards – and I don't want to take the chance of getting guys I don't like as much.
Check out this Taylor Hall rookie parallel card currently attracting gasps and stares on ebay.
That's one darn fine looking card.  No, it's not the true rookie card.  Yes, hockey collectors are weird like that.  However, it does have that one little something.  Everyone notices it, even if no one wants to admit it.  That's his jersey number right there on the card.  To a seller – that must mean big bucks (errr, bigger bucks).  To some buyers – its an annoyance because the seller is going to demand a premium.  And to other  buyers – the hard core player collectors who want the card of their player that no one else can get – it is very precious indeed.
I am not writing this to weigh in on the validity of any of these positions.  I am firmly in the "collect what you like" camp, and feel that a seller can ask whatever they like for a card, while a buyer can walk away in disgust whenever they choose.
Mainly I am writing this because that is one cool card, and I would really have liked to be the one to pull it.  You know – if I ever broke The Cup.  If you feel strongly one way or another about jersey numbered cards, let me know.