Hockey Excerpts From This Week's FCB Hot List
With Lord Stanley's cup being awarded, it's natural to see a market increase in a few hockey cards of players who had a hand winning it.  Every week Freedom Card Board.com puts out a Hot List of the hottest cards in the market.  Here are the hockey cards that made it this week.
1. Tim Thomas
2002-03 Topps Chrome Refractors

Comments: Tim pitched a shutout in Game 7 of the Stanley Cup Finals, it doesn't get any bigger than that.  He had a huge performance on an enormous stage.  Last week, one of Tim's Chrome Refractor rookies sold for $7, this week one sold for $60.  They'll probably cool off pretty fast but his rookies are insanely hot now.
3. Brad Marchand
2009-10 UD Ice RC /99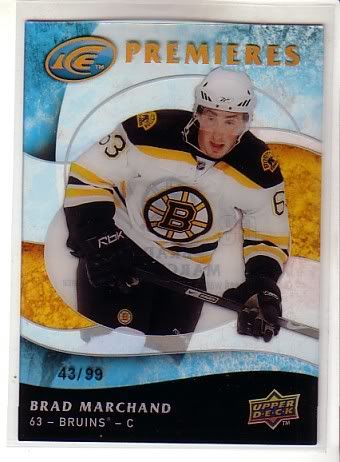 Comments: Have you started noticing a theme here?  That's right, there are no Canucks or Heat on this list because – it is Championship week.  Bruins and Mavs cards rule the day.  So here's another Bruin, Brad Marchand's UD Ice RCs /99 went from $80 last week to $200+ this week.